Description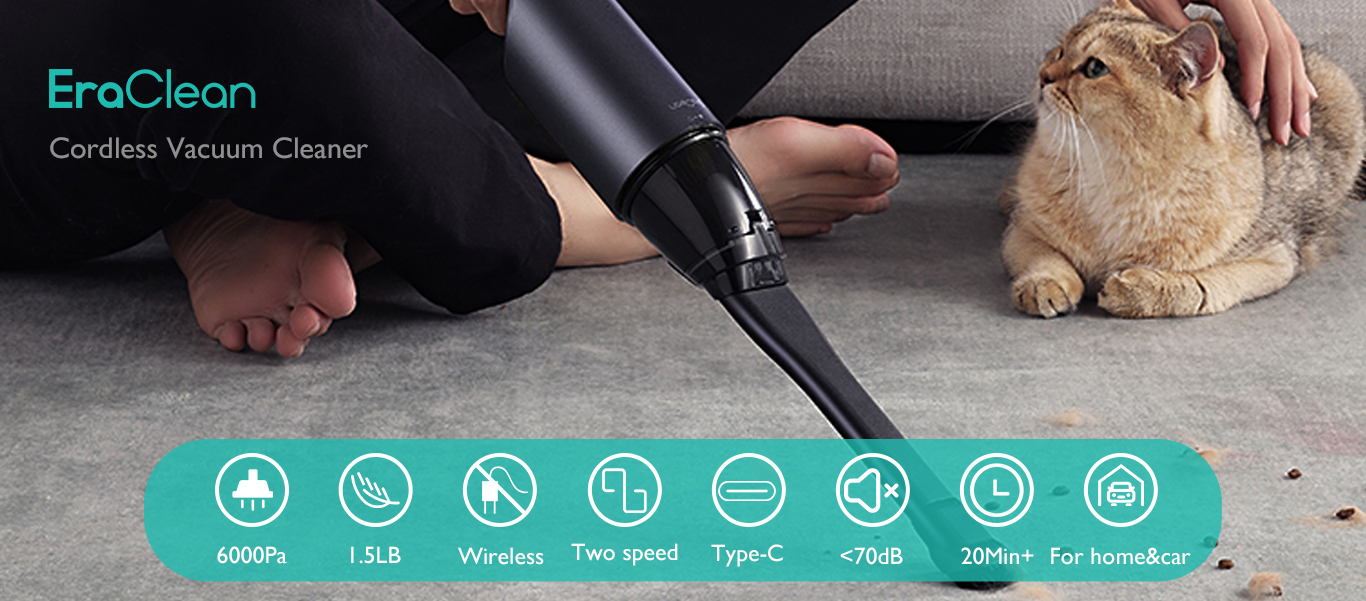 The EraClean Cordless Handheld Vacuum combines light-weight portability with the outstanding suction power of a high-speed brushless motor. With 6000Pa of power, it makes for a diminutive but powerful cleaning machine. Weighing simply 1.5 lbs., and is cordless, so that you can effortlessly clean even the smallest corners and keep it without fuss!
Ergonomic Handle design offers an easeful cleaning experience and enhanced control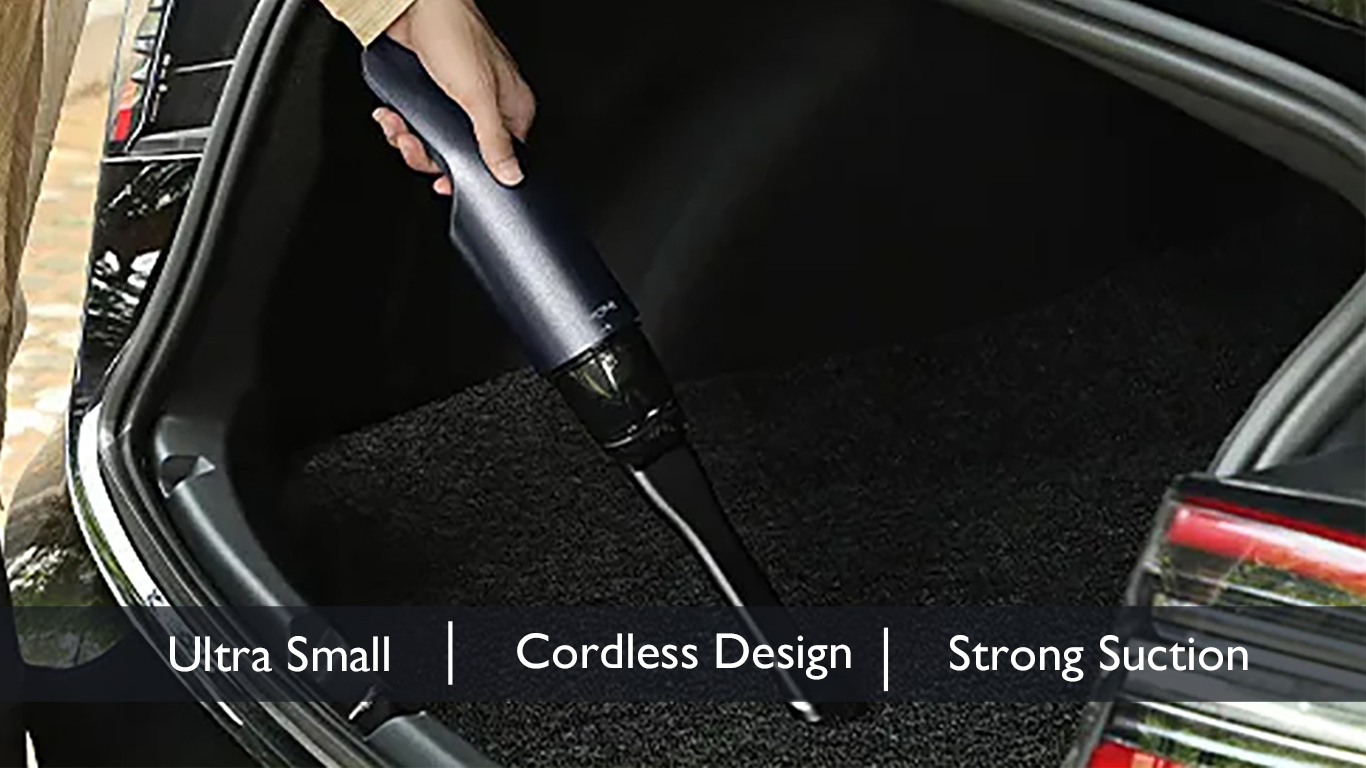 Operating on 6000Pa of power, suck up every spec in seconds when the mess is made daily!

Hairbrush Tool / Crevice Nozzle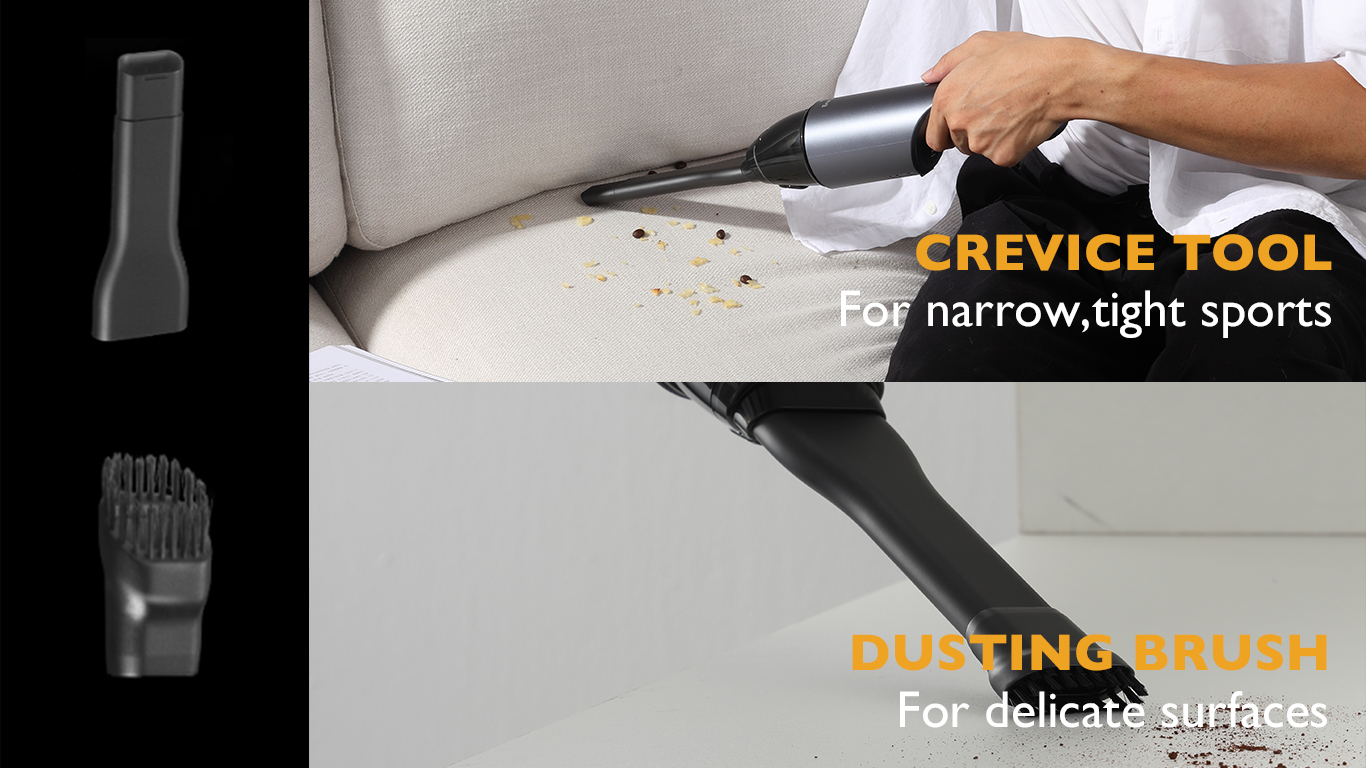 The hairbrush tool allows you to effortlessly clean crumb in the area and clears away human/pet hair or dirt on delicate surfaces and interiors including carpets, sofas, vehicle seats, etc.
 The extended crevice nozzle allows you to clean the dirt in hard-to-reach corners of your home. Because of the long gap nozzle, you can clean the ceiling, curtains, etc., makes it easy to clear away any corner rapidly and effortlessly.
2 Speed Modes Powerful Suction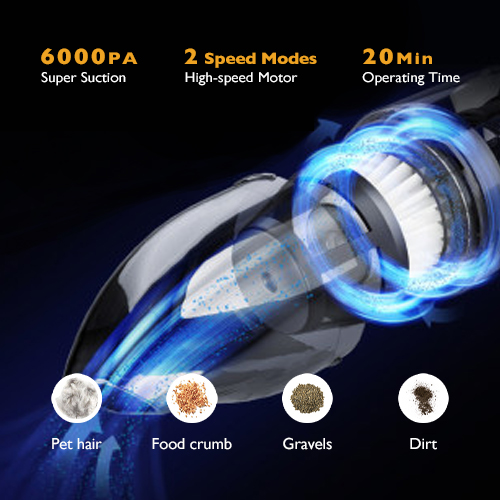 Our hand vacuum cleaner uses a strong power motor with low(4000Pa ) and high(6000Pa ) suction modes for you to select from, operating time from 20 minutes to 10 minutes to satisfy your diverse demands.
Lightweight & Cordless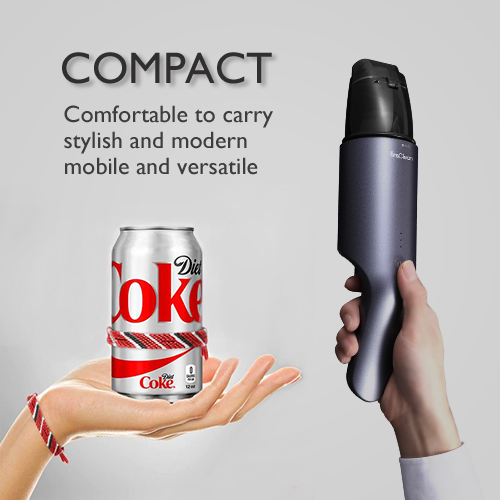 The machine weighs only 1.5 lbs, people can hold the machine and clean their home effortlessly with one hand. The cordless design lets you away from the hassle of a cord
USB Charging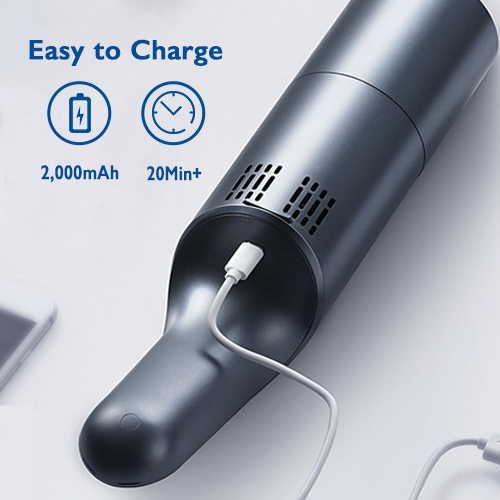 Simply use a USB charger at any places and charge with ease
Washable and Reusable HEPA Filter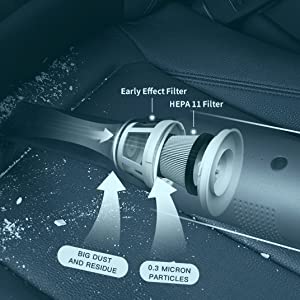 Built-in high-performance percolator and pre-filter box, double filtration. Effortless to separate and clean, long operating life. It can capture 20 times air pollutants compared to air filters.
Specifications
Product model: XC-01
Color: Graphite/White
Filter Type: HEPA media
Attachments Included: Hairbrush tool, Crevice Nozzle
Power: 60W Voltage: 7.2V
Battery: 2000mAh
Sound level: 70dB
Bin Capacity: 120ml
Charging Port: USB-Type-C
Charge Time: 4.5 hours
Operating time: High 10min; Low 20min
Dimensions: 13 x 2.8 x 2.8 inches
Package Includes:
EraClean Cordless Handheld Vacuum x 1
USB Type-C Charging Cable × 1
Direct-drive Cleaner Head x 1
Brush Cleaner Head x 1
User Manual × 1
Warm Tips:
1. Please fully charge the battery before using the vacuum cleaner for the first time. There are 3 lights showing the battery level under the switch key(High/Medium/Low) When one light flashes, it means that the battery is almost exhausted, so you need to charge it in time.
2. Please do not leave the vacuum cleaner uncharged for long periods of time. It is recommended to charge the battery every two weeks, even if you are not using the vacuum cleaner.
3. Please do not block the suction opening when the vacuum cleaner is working.
4. When using the nozzle, make sure the nozzle is close to the floor or table.