Description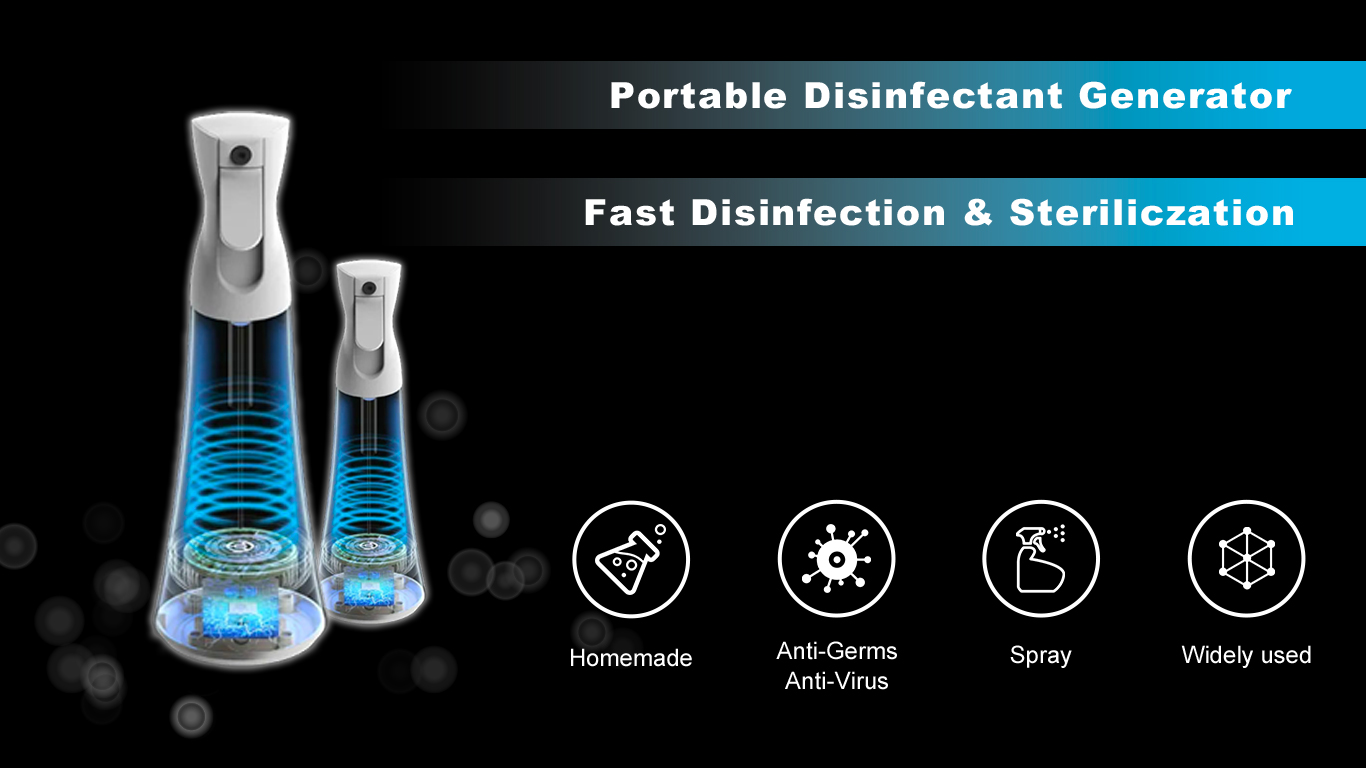 If you have the habit to sterilize yourself and your home, choosing your own disinfectant method is pragmatic. It can be used efficiently and conveniently at the office, school, home or around your loved ones. Additionally, it's naturally-derived and Eco-friendly.
DIY Your Own NaClO Solution In 3 Minutes


2 common components and a press of a button, only 3 minutes to obtain your disinfectant liquid – the result is that it can be used simply by anyone! Just add tap water and plain edible salt and utilize superiority of the electrolysis process to produce sodium hypochlorite (NaClO) – that can be used directly with the built-in spray nozzle to efficiently eliminate detrimental substances in the air and surfaces.
99.99% Harmless Sterilization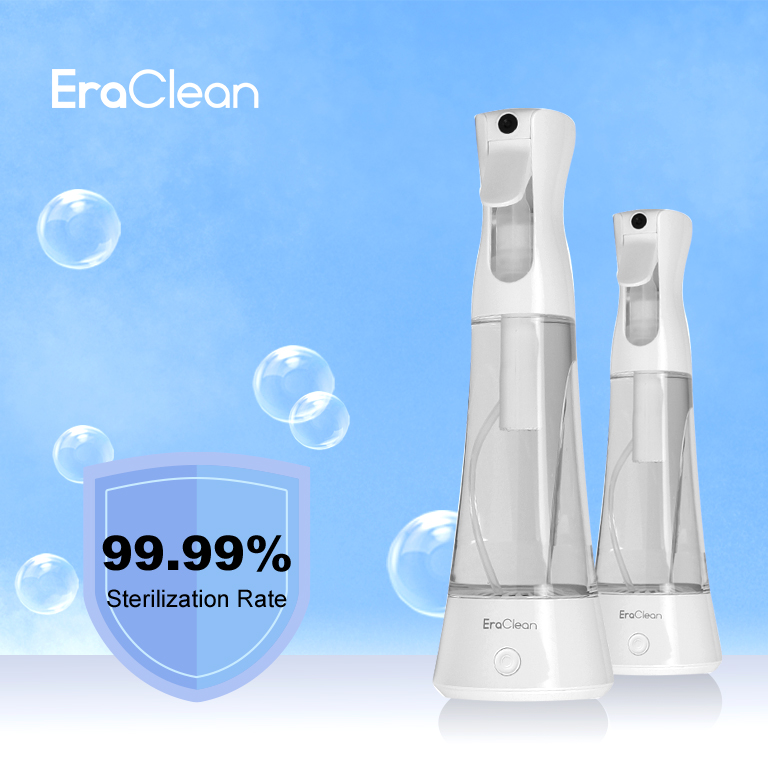 Use our disinfectant liquid generator to tremendously disinfect your surroundings from almost anything – including bacteria, virus and fungus.
Environmental Friendly & Sustainable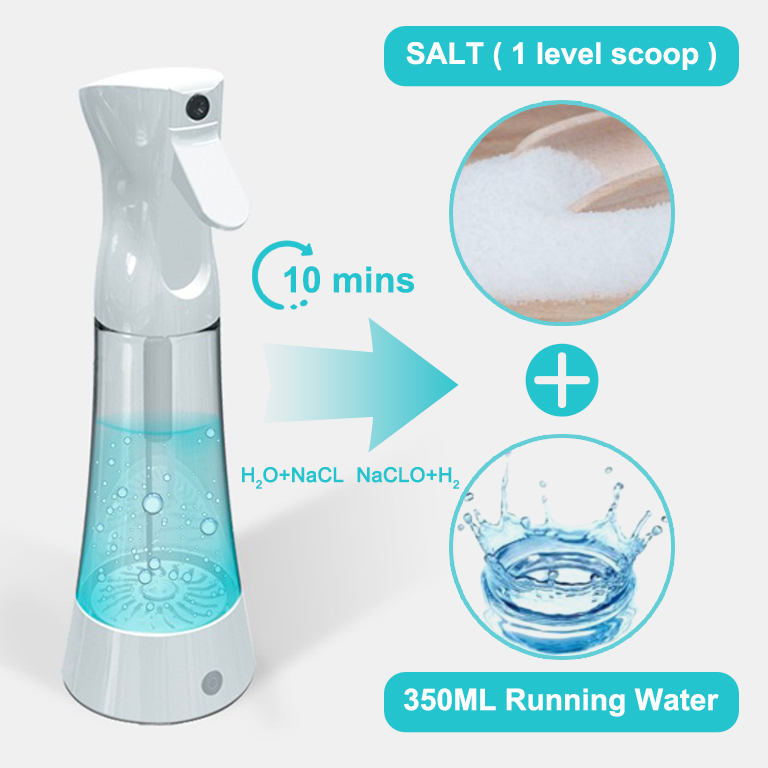 No need to hold strong chemicals surrounding you! The self-made disinfectant is environmentally friendly and has no toxicity and side effects, it decreases the waste from bottle production and chemical factory  worldwide at the same time.
Dependable – Top Quality Material and Build!
The innovative leak-proof lock and sprayer nozzle was designed in Holland, convenient to use, the valid distance of spraying  can reaches 25in (80cm), the fine mist guarantees the NaClO method can get complete contact with air or any surface, which can enhances 300% efficiency of the cleaning effect.
Water-Repellent Charging Port
It can be charged by USB, environmentally-friendly PC body, working plastic will not be electrolytic. It can be used simply by adding water and salt to the pot and pressing a button. After the clean water is made, spray it evenly; moisten the surface of the objects to be cleaned with a duster cloth.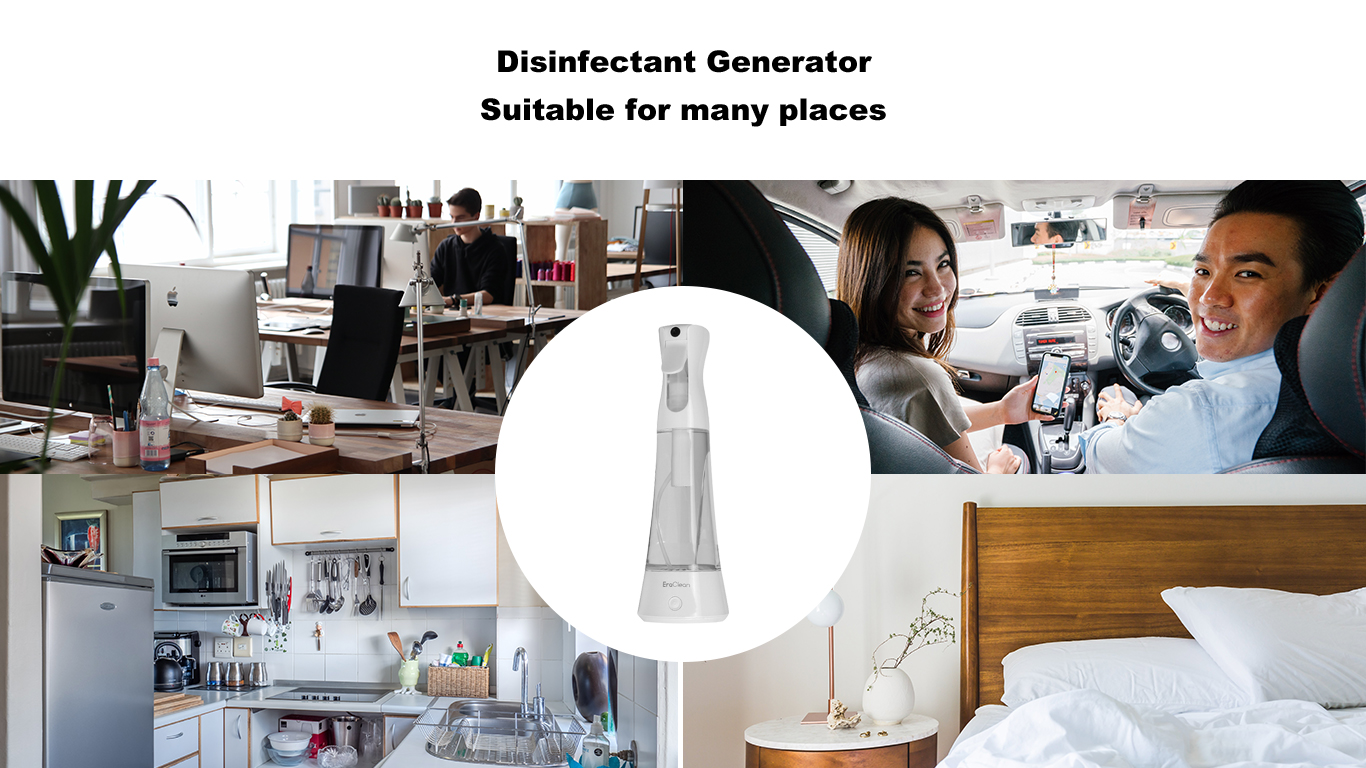 Non-corrosive method for most surfaces: used to easy and put off odors on high chairs, vehicle seats, strollers, countertops, converting tables, floors, tablets, toys, laminate, furniture, granite, glass, metal, painted surfaces, plastic, porcelain, ovens, quartz, sealed & unsealed stone, sinks, stainless steel, toilets, vinyl, walls, and every other water-secure surfaces. You also can use it as a daily water sprayer.
Instructions:
Pour 350ml of tap water into the bottle.
Add edible salt into the water. Use different amounts of salt according to the concentration needed.
Cap the bottle using the spray nozzle and gently shake the bottle. (pls fill in the water not more than 350ml to avoid the water leak between sprayer and bottle when you shake it.)
Connect with the provided cable to a USB power outlet & Press the ON button – the power indicator light will turn on.
Wait 3 minutes to complete the process of generating the sodium hypochlorite solution.
Spray the items you wish to disinfect and wipe with a cloth afterward if needed.
Tips:
Do not use on silk, wool, nylon, leather, or painted surfaces.
Do not use on aluminum, copper, carbon steel products. Suitable for stainless steel.
Do not mix household bleach with other acid cleaner products (toilet cleaner, tile cleaner, bathroom cleaner, etc.)
Should be stored out of reach, and sight, of children.
Specifications
Color: White
Rated Power: 5W
Charging Voltage: 5VDC
Battery Capacity: 1800mAH
Size: 288×89×89
Weight: 250g
Capacity: 350ml
Material: PC+AB
Package Includes
EraClean Disinfectant Generator x 1
USB Type-C Charging Cable × 1
Salt Spoon x 1
User Manual × 1